End of a year long sabbatical
07 February 2022
A year ago, as I embarked on my sabbatical, I created a list of ideas I wanted to spend my time on during the following twelve months. So I thought it might be a good time to revisit that list and see how it went.
Despite a very challenging, pandemic raging year, I feel like I gave this list a good go. During that time many people asked me how I kept myself busy being 'unemployed'. I found it to be a strange question as, in my view, there were not enough hours in the day to fit it all in. So the summary below is mostly for me to revisit what kept me busy over that time. This is in addition to many months of being a maths teacher under house arrest. It was the time that I quickly realised the need for an extraordinary amount of patience to be a teacher.
So many books, so little time, my plan (maybe a little optimistic) was to read one book a week. Looking back, I managed 26 books, making it one every two weeks, which was an improvement from the previous year. I won't list all the books here. Still, sci-fi was prominent, followed by environment and climate change related topics, a few biographies and many super geeky technology books. Audiobooks are my preferred format these days. I can enjoy mental stimulation while walking or riding, which is good for the body and the mind. This might be the only type of multitasking I am any good at.
Indulging in creative projects was another key motivator for taking this time off. There are only two things I would get up for in the middle of the night, an early morning photoshoot and a football match. More on football later.
I had grand plans to advance my photography as a creative outlet. Despite all the restrictions, I managed to get a few images.

A few of my favourites
You can see the rest of the gallery here
Not many activities give me as much joy as wandering around with a camera and later editing, scrutinising and printing my images. It's an infinite game of learning and exploring new possibilities. Maybe it's this lack of ever reaching the destination that is so exciting. There is always the next day, the next shoot, and progress and improvement is all that matters. It's all about the journey.
I found inspiration from many brilliant photographers, many willing to share their ideas online. Unfortunately, I might need a real job to support this obsession. I managed to sell a few of my images, but so far, that didn't even cover my camera cost :-). Kathy is nudging me to work towards an exhibition. Personally, I feel like an intruder, but I am warming up to the idea. The plan is to work on a larger body of work, as from my experience, only about 2% of the captured images are worthy of a print. Exhibition by the end of the year? I will keep you posted. NFTs anyone?
Other creative projects were geekier in nature. I planned to write more, but it turned out that I wrote more code than words. I find the process very creative. It's very logical. Still, the boundless possibilities of software make it a very creative endeavour. I am not a developer but knowing how to code is a skill like reading and writing. Everyone should learn at least the basics. It's a great way to simplify your life. I started experimenting with generative designs, and hopefully, I will have something to show later in the year. I had a lot of fun working on our Energy Heartbeat project. It's a little like magic to put all the pieces together to power it up and to see it come to life.
Travel would usually be at the top of the list for any sabbatical, and I had grand plans. The planned EV trip around Australia was to be the highlight of the year. The route was mind mapped (see below), with charging locations scouted and most hotels (not sure some are classified as such) booked. I even had friends and family lined up to join me on individual parts of the trip. Covid had other ideas. I had no choice but to cancel the trip until further notice, or maybe indefinitely. It was supposed to be a fun road trip, which relied on dodgy 3-phase charging points, vast emptiness, and stays at roadhouses far away from city lights. Now I can only imagine the fantastic photos and videos of the nothingness.
Will I do it later? I am not sure. The challenge is slowly fading as EVs become the norm, and the challenge of driving around Australia fades too. Never say never, maybe a 4WD SUV EV to venture off the beaten track next time.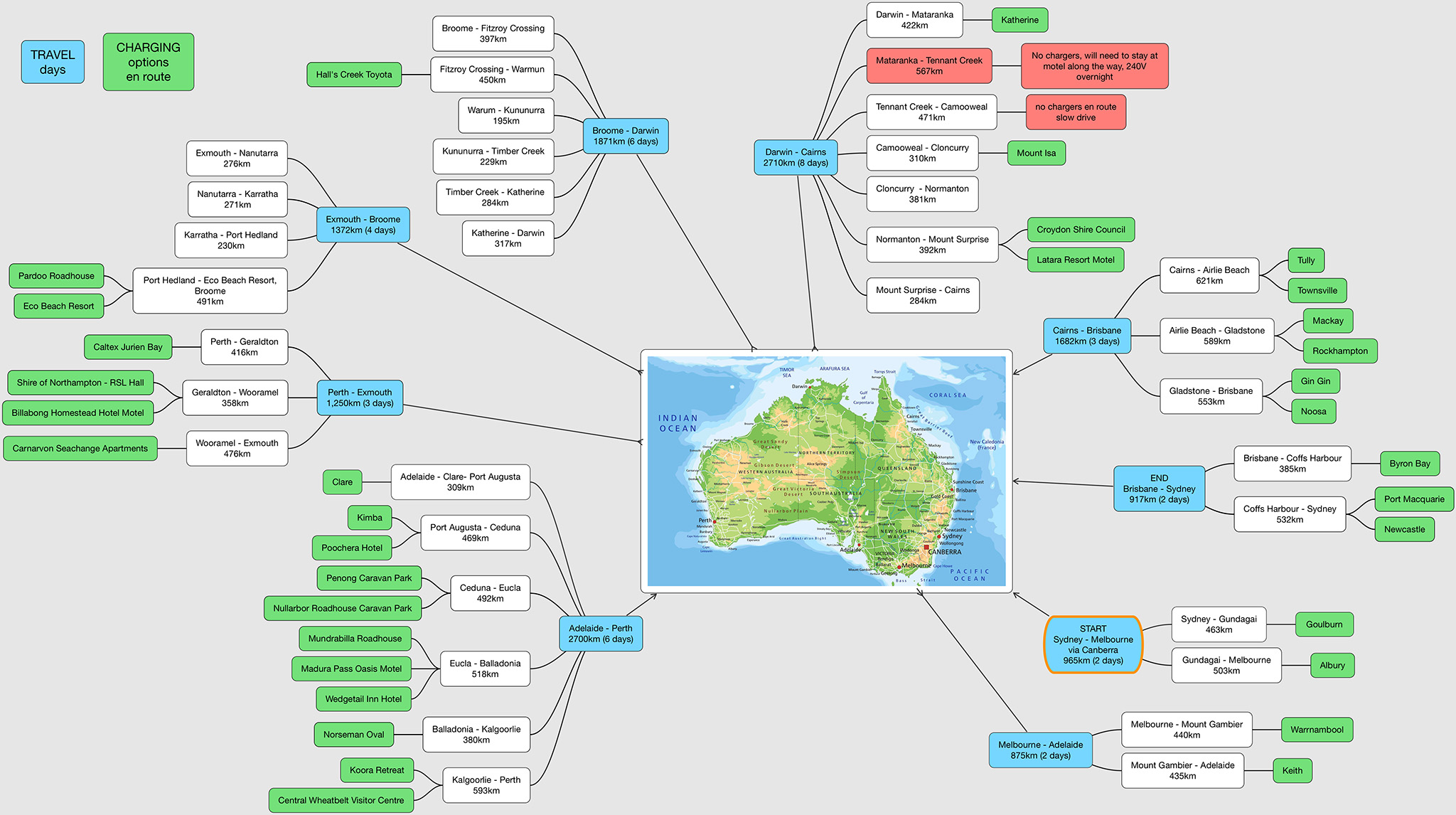 A few of my favourites
Not all was lost, we managed to make a 4000km trip to Mungo National Park, and for the record, range anxiety is FUD.
Speaking of trips, the positive side of international border closures, we ended up in the red centre and most recently on Heron Island. Both trips were amazing. Uluru is a magical place, truly unique and deeply rooted in the history of this land. Hiring a bike and circumventing the big rock on two wheels was the best way to experience its magic. Heron Island is a rugged place where humans take a back seat to nature. It's comfortable, but with no internet and no television, not that you would miss it at all. The island is home to 200,000 birds, so you are one unlucky human if you don't get shat on at least once. On the other hand, sharks and Manta Rays are friendly, and turtles are majestic.

Heron Island (Do not adjust your screen, this is the true colour of the water)
Despite hanging around the house for long periods, I am still shit at playing FIFA on PS4, a severe lack of effort on my part. Like I said, there simply aren't enough hours in the day. Speaking of football, it's very frustrating to be an Australian supporter of the beautiful game. Matildas out in the QF of the Asian Cup, where reaching the final was the bare minimum, and Socceroos are struggling to qualify for the next WC. Will that stop me from getting up at 2:30am? Of course not.
All in all, this was an interesting time. Despite being stuck at home with the family, we made the most of it. Individually everyone experienced significant and exciting changes this year. Joel started university, a tough gig during the pandemic, but hopefully, he can enjoy campus life this year. Anders started a new school, he has become a reading machine, and I have never seen him so happy to learn. As for my lovely Kathy, she keeps this place ticking along, all the while running her architecture business. And if that wasn't enough, I am very proud of her for being elected a councillor at the Lane Cove council. So it is councillor Bryla from now on.
As for me, it was a year to remember being the bum of the family.
If you are thinking of taking time off, consider it as taking a year out of your retirement and bringing it forward. You don't want to be too old to explore. I would lie if I didn't mention some anxious moments, usually at 3am.
What the f…. are you doing? was the sound of the little voice of reason in your head. It takes conscious effort to overcome many years of conditioning to follow the norm, the expectation of having a well-paying job, a career. At times it's tough to reconcile the idea of a middle-aged man taking a gap year without pay. But isn't life about exploring, experimenting, and learning? The result of it can only lead to new opportunities.
What next?
If the last 12 months were the time to explore and experiment, the next is to find where I could apply my passion, skills, and energy. It became apparent that it needs to be something meaningful, creative, and with a purpose to make a difference. Something at the intersection of technology, data, creativity and sustainability.
As part of this journey, I enrolled in a post-graduate course in Sustainability at Sydney University to expand my knowledge and contribute towards a more sustainable future. The plan is to create awareness using data visualisations and storytelling, explore environmental photography projects, and uncover opportunities in the growing cleantech sector.
So if you are a small cleantech-focused organisation, thinking along similar lines, I would love to have a chat.
The final word on my sabbatical.
I am very grateful for being able to take the time to dwell on ideas, to wander around (sometimes aimlessly) at the crack of dawn in search of that portfolio-worthy image. There simply wasn't enough time in a day to fit it all in. I would highly recommend a sabbatical as an antidote to the world of instant gratification, always-on culture and the pressures of ever-increasing quarterly targets.
So if you have the means to do it, just do it.
.
.